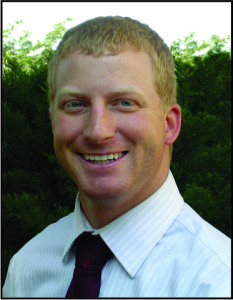 Welcome to Bernhardt Vision!  We are excited to be your primary eyecare professionals. Please call us to schedule.
Dr. Corey Bernhardt of Bernhardt Vision was born and raised in Loveland, CO. He attended University of Colorado for his bachelor degree, then pursued his Doctor of Optometry degree at Pacific University College of Optometry in Forest Grove, OR. After graduation, Dr. Bernhardt moved back to northern Colorado to begin practicing Optometry. He is dedicated to providing excellence in eye care, from glasses and contact lens prescriptions, to emergency care and ocular health management. He provides services for glaucoma management, cataract evaluations, "pink eye" exams, and specialty contact lens fits for conditions like Keratoconus.
Currently, Dr. Bernhardt has moved into his new office and has started seeing new and old patients alike. The office is located at 102 W. 4th St in Downtown Loveland, just one block east of Garfield. Dr. Bernhardt has been seeing patients in the Loveland area for almost eight years. He also works with Ensight Skills Center nonprofit organization to provide low vision evaluations.
His hobbies include getting outdoors as much as possible through running, softball, tennis, and biking. You may also encounter him sampling some of the many local breweries. He is also a big fan of the Denver Broncos and Colorado Rockies.